Austin gained it official "Live Music Capital of the World" status on Aug. 29, 1991 when then Austin City Councilmember Max Nofzinger and Mayor Bruce Todd championed a successful City Council proclamation, the brainchild of Austinite Lillian Standfield. But the title was infused and distilled two decades prior in a handful of extraordinary music venues hosting an equally extraordinary band of soon to be famous singer-songwriters.
That tradition continues today in a much larger way, with an impressive number of venues hosting live music performances in the city, sometimes over 100 on the same night. Some of these venues – live music, restaurants, bars and landmarks (past and present) have reached iconic status – both locally and globally. Here are some great tees documenting Austin's evolving music and cultural scene.
---
The Saxon Pub
The Saxon Pub is one of Austin's iconic live music venues. Opened in 1990, the Saxon has hosted well over 22,000 musical performances.
The Saxon has been the location for films, videos and countless live recordings. On any given night you might see a major celebrity from the film or music industry either having a beer or sitting in on stage jamming with the locals.
This award-winning listening room has helped launch the careers of several prominent entertainers. It is also known for booking some of the greatest music legends around, performing in an intimate atmosphere that Kris Kristofferson likened to "playing in his own living room."
Whether it's one of the incredible free weekday happy hour shows, a weekend matinee or a late night performance by the next big thing, find out why The Saxon Pub is Austin's choice for live music!
We've got the Saxon Pub logo tee available in heavy cotton, a soft heather blend and a ladies tank top.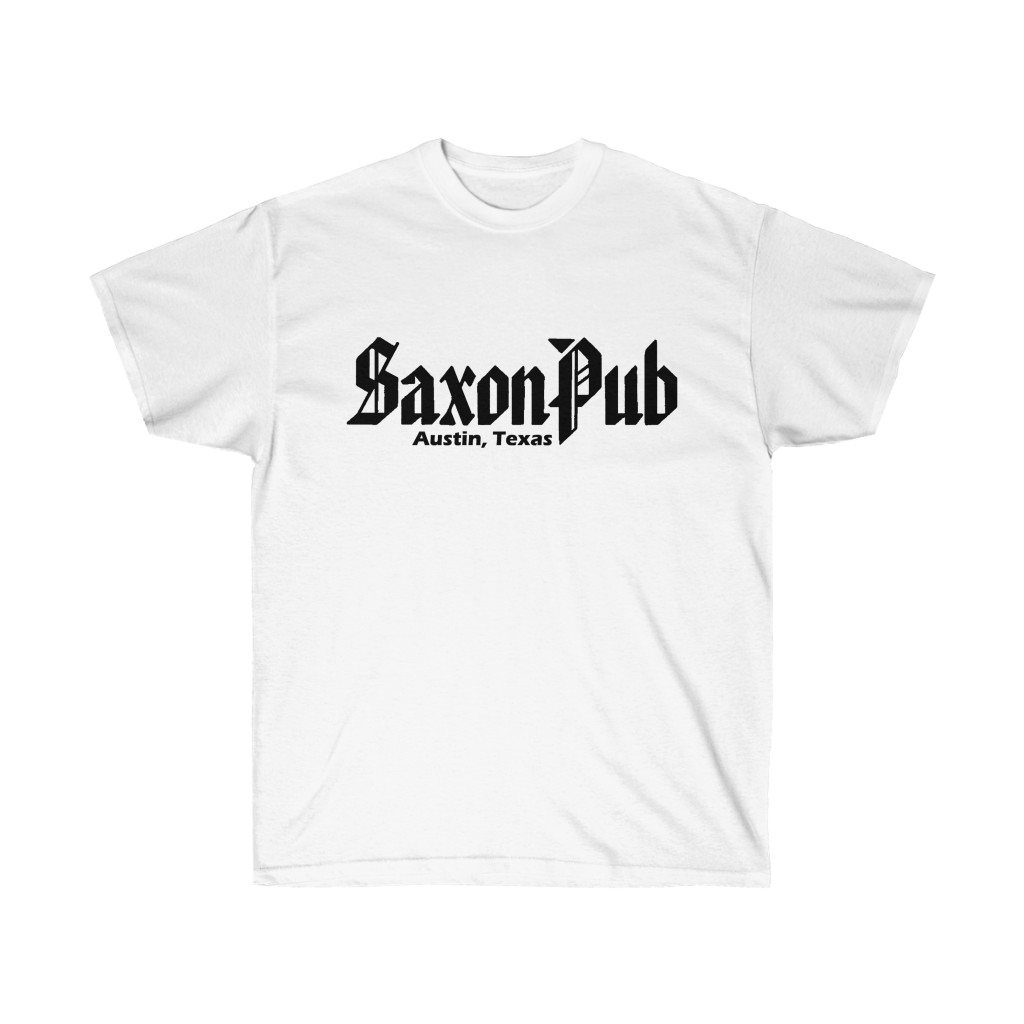 ---
The Mohawk
The Mohawk is one of Austin's live music giants. The intimate inside bar and spacious outdoor venue is located in the heart of Austin's legendary Red River Live Music District. It's an eclectic blend of live emanating from this storied venue, from big name touring artists to anarchy wrestling and beard competitions, the entertainment spectrum is expansive.
We've got Mohawk tees in soft heather blends and heavy cotton and concert posters too.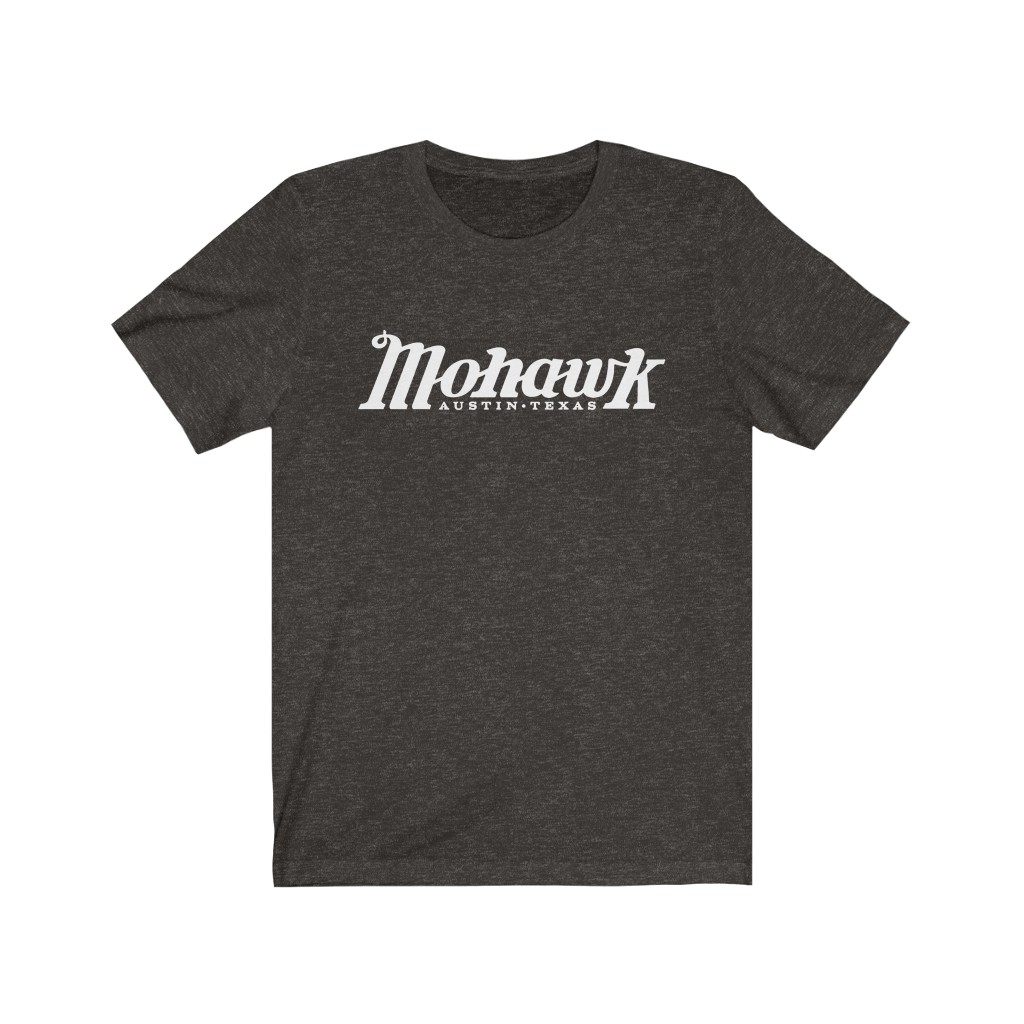 ---
Soap Creek Saloon
If the Armadillo World Headquarters was the heart of Austin's music community in the early Seventies, Soap Creek Saloon was its soul. Alchemies of sound were performed there and the oft proclaimed "Home of the Stars" stands as a founding venue and one of the seminal sources of Austin's musical treasure.
Our Kerry Awn designed Soap Creek tee comes in both a heavy cotton and a soft heather blend version.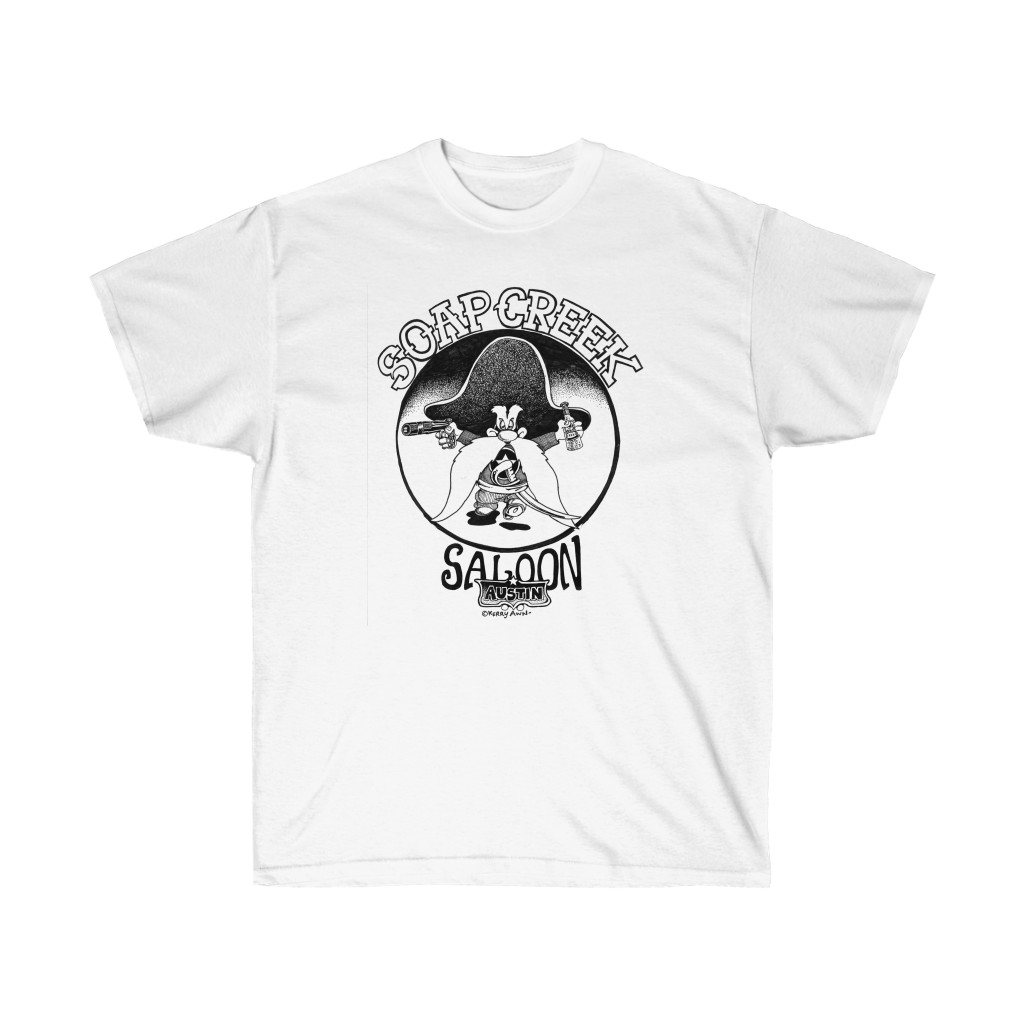 ---
The Parish
The Parish is one of Austin's best live music venues. Conveniently located in the heart of Austin's historic 6th Street. The venue is a haven where sound is sacred. A roof under which no genre is discriminated and no one is the black sheep.
Partake in an assortment of comedy, burlesque, and guitar-driven magic from straight rock 'n roll to bluegrass, jazz, and the newest indie rock darlings on the scene. The doors are hidden among the madness, but ascend the staircase and you'll find Sixth Street's little secret. Seek and you shall find.
We've got Parish logo tees and posters in two styles and in a ladies tank.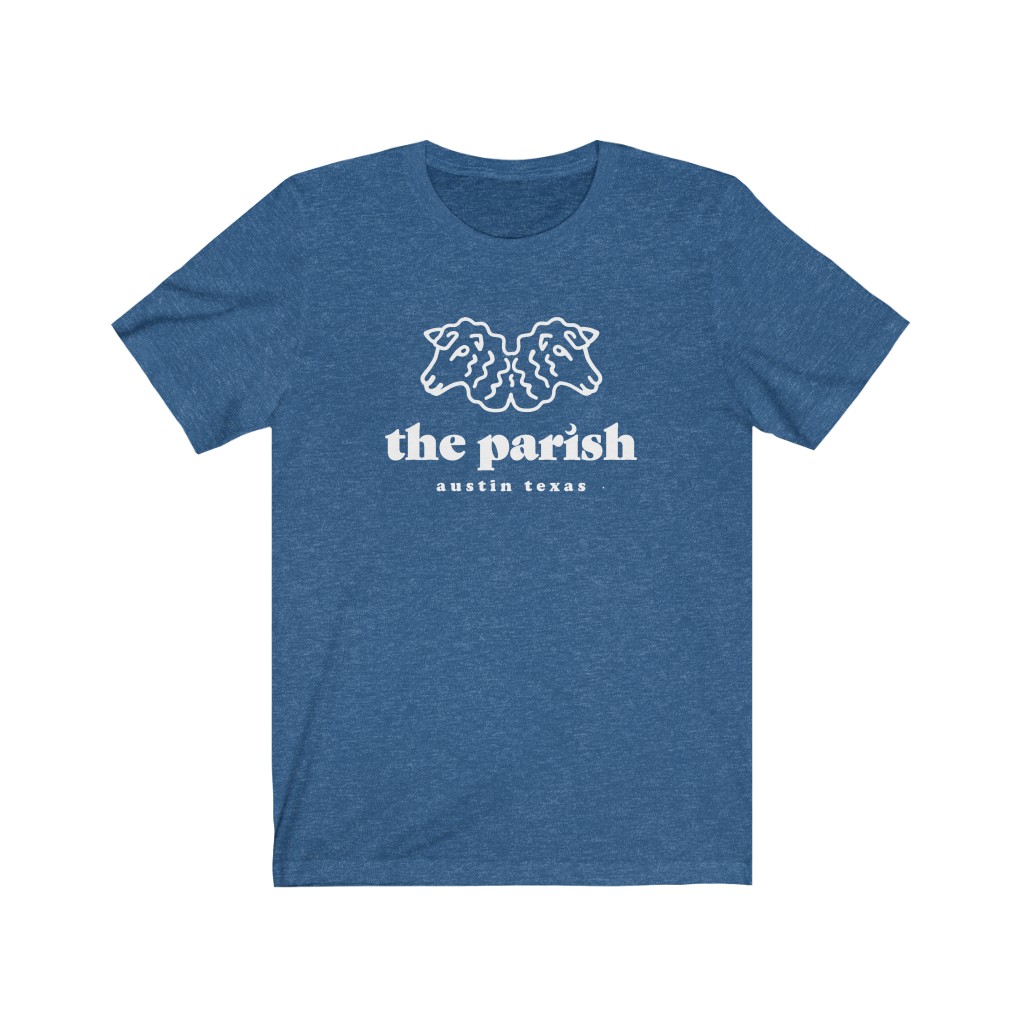 ---
Hole in the Wall
Since 1974 the Hole in the Wall is one of Austin's most legendary entertainment venues.
The West Campus icon has remained the Austin music scene's go-to club for generations of beginner bands, established touring acts, and famous rock stars to throw back a few, have a laugh with the locals.
Local success stories Spoon, The Gourds, Shakey Graves, Timbuk 3, Bob Schneider, Fastball, Black Joe Lewis & Gary Clark Jr have all gone on to wider acclaim after honing their chops on the cozy stage in the front window of the Hole. Touring acts like Old 97s, Mother Hips, John Doe and Jonathan Richman have graced the larger, more professionally-equipped stage in the middle of the venue.
Located on Guadalupe, in the heart of UT's West Campus, the Hole in the Wall is a big part of the the history of "the Drag".
We've got Hole in the Wall tees in both heavy cotton and soft heather cotton.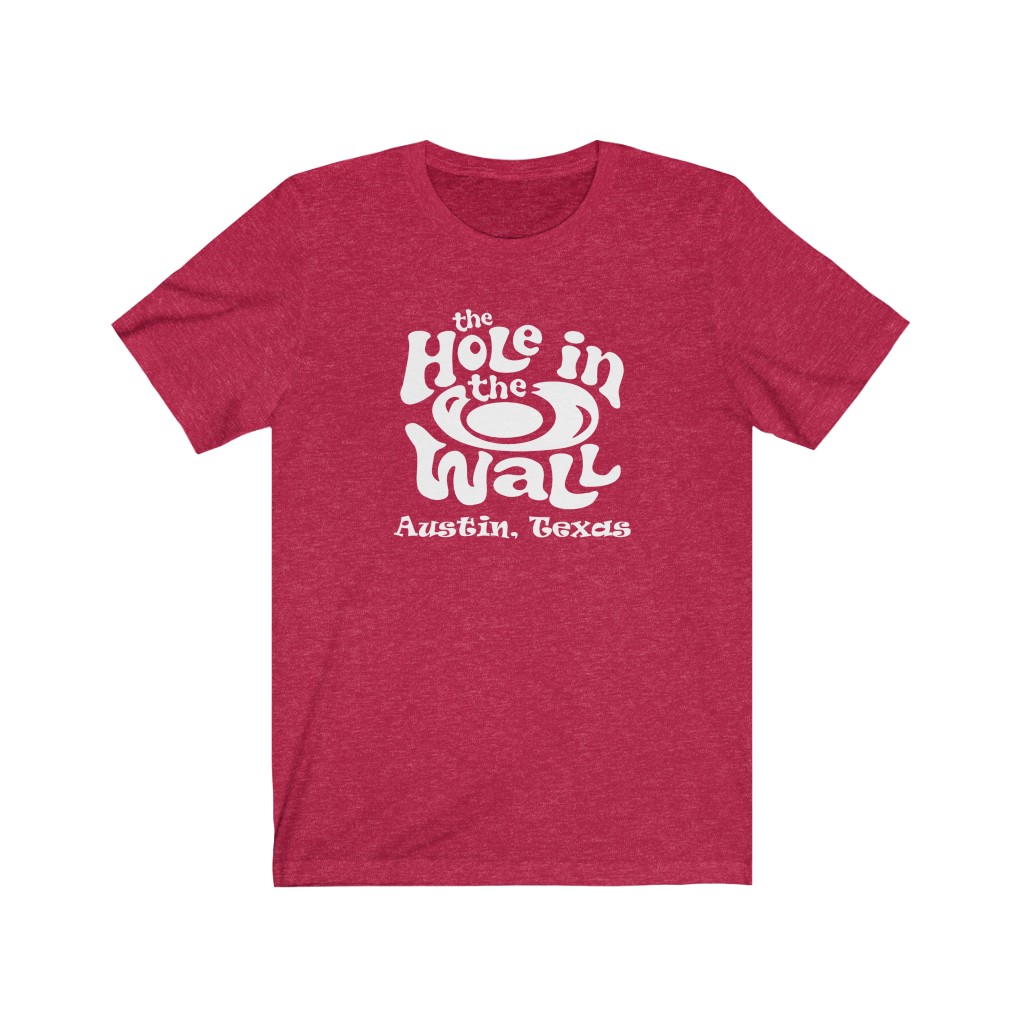 ---
Top Notch Hamburgers
Top Notch is an Austin icon. Since 1971 it's been an Austin mainstay for burgers, onion rings and more in a vintage setting with curbside service. Top Notch was featured in Richard Linklater's 1993 film, Dazed and Confused.
We've got Top Notch tees in both soft heather blends and heavy cotton full color.